1010data's transition to hybrid with Tactic
Overview
With more than 20 years of experience, 1010data has emerged as a beacon of transformative insights. Catering predominantly to the financial, retail, and consumer goods sectors, 1010data empowers its clientele to promptly react to the intricate shifts of consumer demands. This unparalleled agility has positioned businesses at a vantage point, enabling them to nimbly navigate and adapt to the perpetually evolving market dynamics.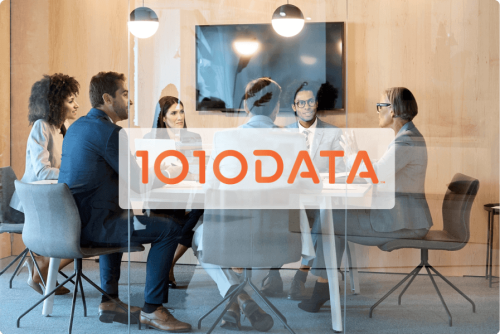 This case study explores 1010data's transition to a hybrid work model and the transformative impact of Tactic, a hybrid enablement software, on their workplace optimization efforts.
Background
The onset of the COVID-19 pandemic triggered global shifts in workplace dynamics. For 1010data, this period marked a dramatic shift from their prevailing semi-remote work culture. By March 2020, in light of the escalating health concerns, the firm transitioned to a full-scale remote working environment.
However, with the world witnessing the advent of vaccinations and a gradual return to semblance of normalcy, 1010data stood at a crossroads. The overarching challenge was to determine an effective way to reincorporate the office into their operational framework. Their goal was clear – to conceive a flexible model that marries productivity with utmost health safety.
Adopting Tactic for Hybrid Enablement
The pandemic, while unprecedented in its challenges, also spurred innovation and adaptation. 1010data's initial attempt to manually track office utilization soon revealed the cracks in such an approach. Recognizing this, Maria Alvarado, the facilities manager, became the torchbearer for seeking a more adept solution. Her relentless pursuit led her to Tactic, among other contenders.
A comprehensive comparison showed that Tactic outperformed other competitors in catering to 1010data's requirements. Tactic wasn't merely a software. It offered a holistic integration of myriad features – from pandemic-related data to reservation tracking and workspace utilization. Maria's faith in Tactic wasn't solely grounded in its features; it was equally about Tactic's team — a group defined by their problem-solving enthusiasm and unwavering customer support.
Prioritizing Team Autonomy
1010data puts their people first and trusts them to do their best work without micro-management and without unnecessary company rules. That's why when the option presented itself to be back in an office together, the executives at 1010 decided against mandatory in-office hours or schedules.
Instead, they fully adopted the hybrid workplace model, allowing employees to come in as they like or need, but without forcing them or passing around unwritten expectations. The 1010data leadership team understands there are benefits to working from home and working in the office, and is working hard to provide an environment where their people reap the rewards of each.
Ensuring a Safe Workplace
When circumstances allowed for people to get back in the office without significant health and safety risks, companies worldwide jumped on the hybrid workplace bandwagon as quickly as they could. While 1010data also employed a hybrid work model, they did so slowly and with their employees' safety top of mind.
By restricting office capacity, enforcing social distancing and masks, and requiring health questionnaires to access the office, 1010 is doing everything right to give people the option to safely return to the office.
Improving Productivity Through Flexibility
If there's one thing we have all learned during the pandemic, it's that working from home can be surprisingly productive. When we put our heads down and get to work, without distractions from water cooler conversations or unannounced 'pop-ins' from colleagues, we get a lot done.
On the flip side, when you work from home sometimes the day never ends. You work and work without taking breaks for a snack or for lunch and without realizing what time it is.
By transitioning away from fully remote work and leaning into hybrid work, 1010data allowed for a change of scenery to inspire employees' best work; and, at the same time, give people more flexibility with their work schedules.
Future Outlook
The hybrid workspace, underpinned by the robust capabilities of Tactic, has heralded a new era for 1010data. This model transcends mere flexibility; it offers a blueprint for future operational strategies. Armed with granular office usage analytics, 1010data is primed to make data-driven decisions, ensuring enduring productivity coupled with safety.
Their partnership with Tactic doesn't just facilitate a seamless hybrid work ecosystem; it provides invaluable insights that promise to shape and refine 1010data's workplace contours for years ahead.
Ready to revolutionize your hybrid workplace with Tactic?
Embrace the future of work with Tactic and unlock the full potential of your organization.