Building the hybrid workplace with Nitro
Overview
Founded in Melbourne, Australia, Nitro is a leading global document productivity company. With a focus on streamlining document workflows, they have been at the forefront of providing digital document solutions to individuals and businesses alike. Nitro's mission is to improve efficiency for its users, offering tools that simplify workflows and reduce the need for paper-based processes. As a testament to its impact, many Fortune 500 companies trust Nitro's suite of solutions to enhance their document productivity and digital transformation efforts.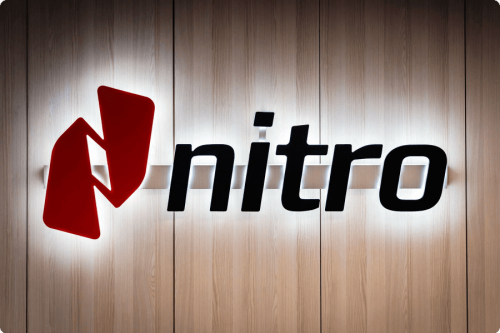 This case study explores Nitro's transition to a hybrid work model and the transformative impact of Tactic, a hybrid enablement software, on their workplace optimization efforts.
Background
Before the whole world got acquainted with the COVID-19 pandemic, Nitro was comfortably settled into a classic office vibe, where showing up in person was the name of the game. Limited remote work options meant the familiar hum of chatter, clacking keyboards, and coffee breaks in the company's brick-and-mortar locations. But as the pandemic took hold and businesses everywhere had to rethink their playbooks, Nitro found itself on the precipice of change.
The world outside was evolving, and so were clients' expectations. Physical meetings were suddenly replaced with Zoom calls, and boardroom presentations transitioned to screen shares. Nitro realized that agility and adaptability weren't just buzzwords – they were now the lifelines of a thriving business. The new norm was demanding a shift, and fast.
Adopting Tactic for Hybrid Enablement
Prior to partnering with Tactic, Nitro had no comprehensive solution for managing a hybrid workforce. While they had previously used a popular competitor of Tactic as a receptionist system, they found the interface lacking in terms of hybrid management functionalities. When Nitro's Global Workplace Specialist, Chris Kirby, received a cold email from Tactic, showcasing a visually appealing interface coupled with the desired features, he recognized the potential of the solution.
By integrating Tactic into their workplace, Nitro empowered employees with autonomy, allowing them to decide when and how often to come into the office. Tactic's intuitive features facilitated the seamless booking of desks, meeting rooms, and other resources, eliminating the need for tedious email or Slack coordination. The software also enabled Nitro to achieve their goal of creating office spaces that fostered connection, collaboration, and productivity. By streamlining hybrid management processes, Tactic became an essential component of Nitro's hybrid work environment.
Sales Transformation
Prior to the pandemic, Nitro's sales model was firmly rooted in face-to-face interactions. Their operated under the belief that in-person meetings and live product demonstrations were the cornerstones of successful deal closures. For years, this method served as the foundation for their business growth, and there was a deeply entrenched sentiment within the company that a tangible, physical presence was essential to persuade potential clients and to foster trust.
However, when the pandemic engulfed the globe, it disrupted traditional business operations, propelling Nitro to adapt and innovate. The company found itself transitioning from in-person meetings to virtual sales conversations and asynchronous product demos. Much to their surprise, this new approach did not hinder their ability to close deals; in fact, they found that remote work was equally potent in driving sales outcomes. This experience served as a revelation, effectively debunking the long-held belief that successful sales hinged on in-person interactions. The agility and resilience displayed by Nitro during this period highlighted the potential of virtual engagements in the modern sales landscape.
Location-Independent Hiring
Nitro's decision to adopt a remote-first approach wasn't just about adapting to modern work trends; it was a strategic move that reshaped their hiring landscape altogether. No longer bound by the confines of geography, they could now look beyond city limits, state lines, and even national borders. By throwing open their doors (virtually, of course) to the global talent market, Nitro was in a prime position to attract a diverse array of exceptional candidates.
But it wasn't just about numbers and breadth; the quality of their hires saw a significant upswing as well. Before, Nitro might have missed out on incredible individuals simply because they were in a different time zone or continent. Now, those same individuals were becoming part of the Nitro family, bringing with them fresh perspectives, unique skills, and a myriad of backgrounds. This new approach not only fortified Nitro's talent reserves but also played a pivotal role in fostering a richer, more diverse company culture.
Focusing on Flexibility
With offices in Dublin, San Francisco, and soon to be Toronto, the cities Nitro calls home are some of the most expensive housing markets in the world. So when COVID-19 forced all employees to work from home full-time, many of them were working from small apartments shared by roommates or spouses who were also working from home.
Those working conditions played a part in Nitro's leaders making the decision to reopen offices on a limited basis as a way to give their employees a change of scenery and an escape from their makeshift home offices.
However, Nitro continues to operate as a remote-first company, meaning that working full-time in the office is not necessary. To emphasize that decision, Nitro adapted its office space, transforming it into a place for connection, collaboration, and company events, not an office full of desks or cubicles. The desks in the office are all the same and all bookable by the hour or the day using the Tactic app. Nitro redesigned common areas in the office to inspire collaboration, culture building, and productivity.
Expansion & Future Plans
After a successful soft opening in their Dublin office, Nitro expanded the Tactic solution to more of their worldwide offices, creating a consistent and optimized hybrid workplace experience for their employees. Nitro's adoption of Tactic represents a forward-thinking approach to the hybrid workplace, emphasizing the importance of efficient office management and its role in facilitating collaboration, productivity, and team bonding.
Transitioning to a hybrid work model and the integrating a hybrid enablement software has proven to be a successful endeavor. By embracing flexibility, transforming their sales processes, expanding their talent and improving the overall organizational culture.
Ready to revolutionize your hybrid workplace with Tactic?
Embrace the future of work with Tactic and unlock the full potential of your organization.