Leverage the
power of data
Gather office space utilization data to measure engagement and make informed decisions for the future

Brendan K.
VP of People
"Team members who are looking to schedule collaboration in the office will benefit from a fantastic workflow that keeps them informed of when their teammates will also be at a desk."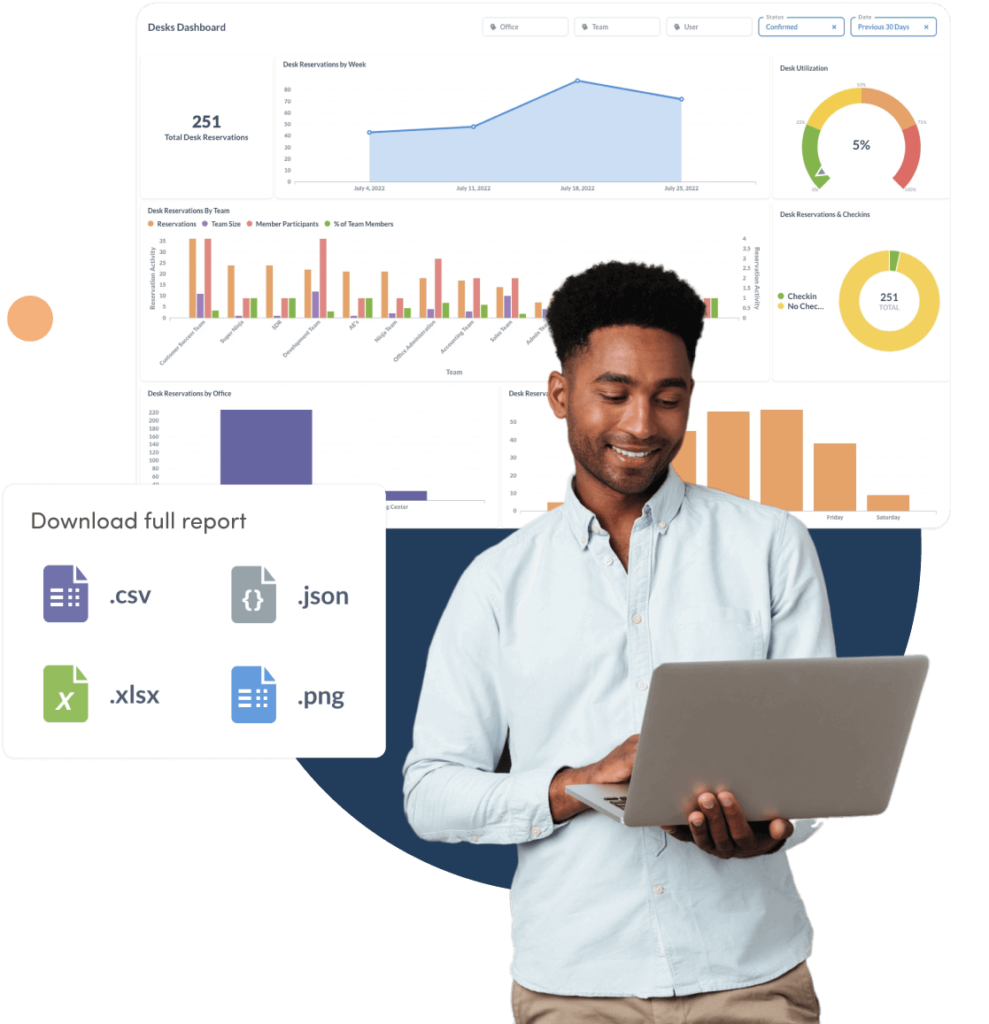 No more guessing games,
just real numbers
Dive into the data to gain a deeper understanding of how and when your office spaces are being used.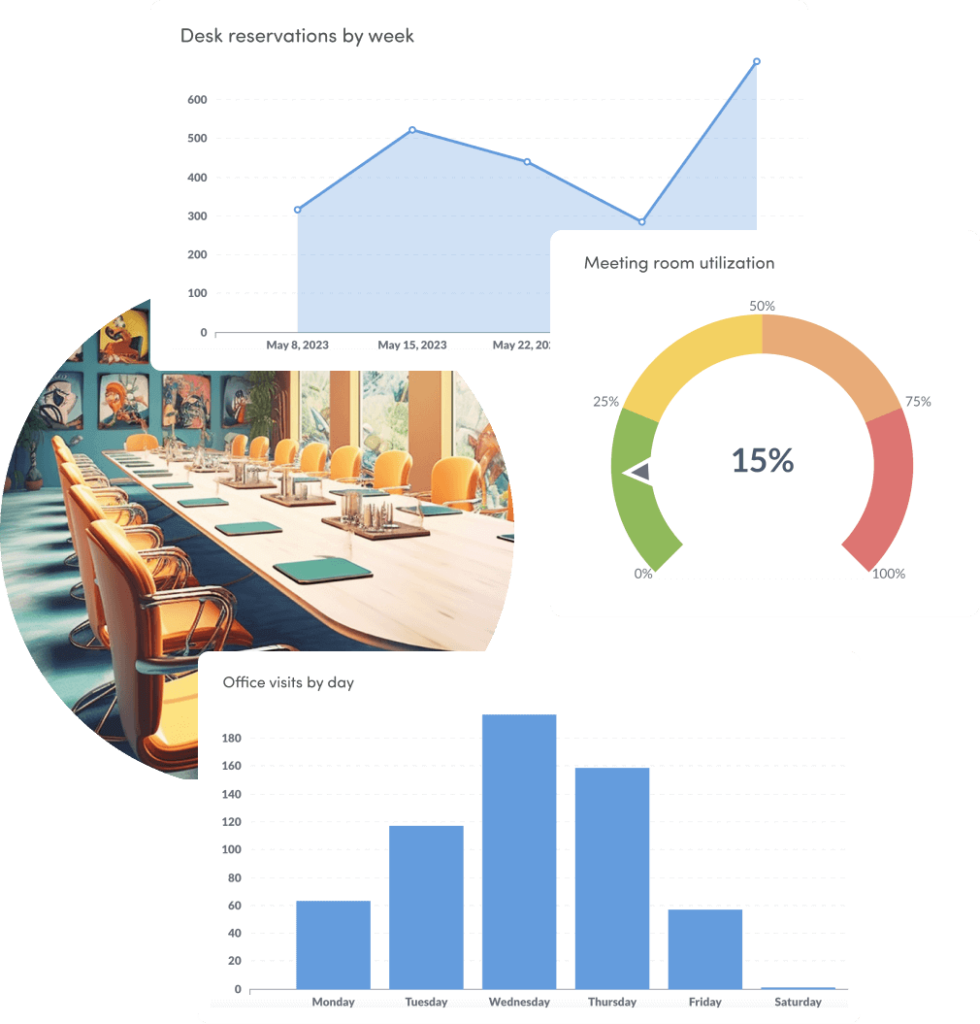 Desks & Workspaces
Pinpoint popular workspaces and underutilized areas in order to make informed decisions on a more efficient office layout and design.
Learn more about desk booking >
Meeting Rooms
Analyzing data on meeting room reservations and check-ins to identify peak usage times and ensure that teams have the necessary spaces for productive collaboration.
Learn more about meeting room reservations >
Office Visitors
Visitor data provides insights into the number, frequency, and demographics of visitors to the office, assisting in compliance with regulatory requirements
Learn more about visitor management >
Get the inside scoop on
behaviors & trends
With a deeper understanding of your team's dynamics, you can identify areas for improvement, and foster a more engaged workforce.
Remote & Office days
Evaluate the effectiveness of your hybrid work policies, identify trends, and make informed decisions to optimize productivity and employee satisfaction.
Employee Leave
Monitor employee attendance and identify any patterns or trends related to absences, enabling you to address potential issues such as high absenteeism or burnout.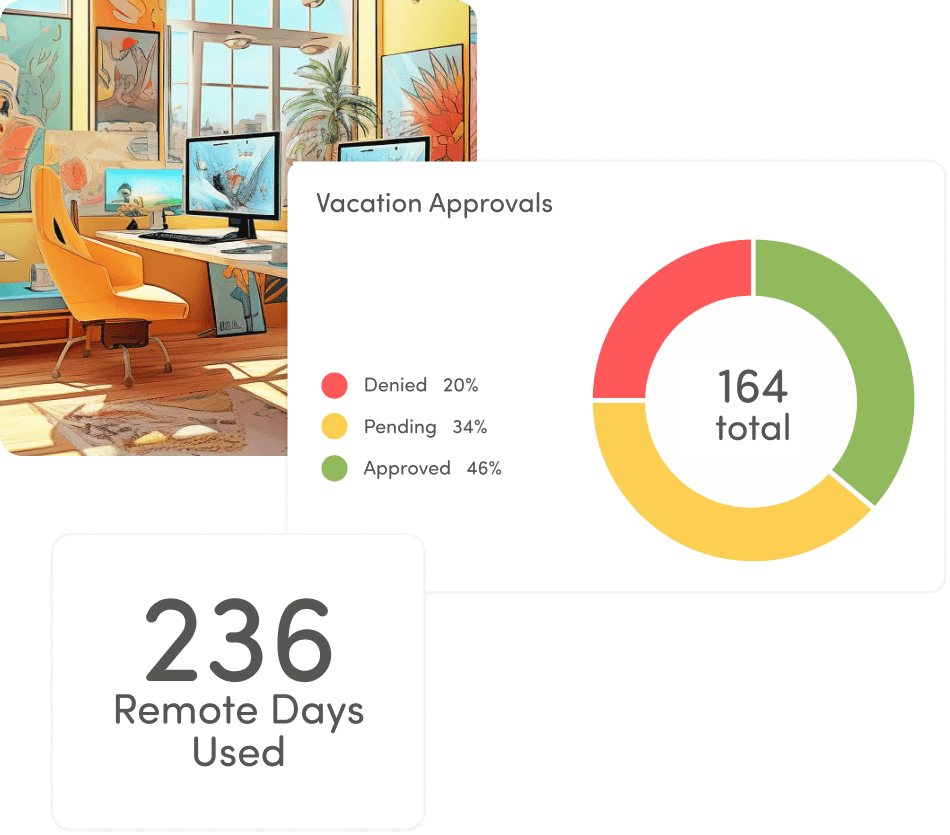 Access a range of
actionable reports
From office utilization to employee activity, you'll have everything you need to understand make data-driven decisions and optimize your workplace for success.
Explore the entire suite of tools to
transform your hybrid workplace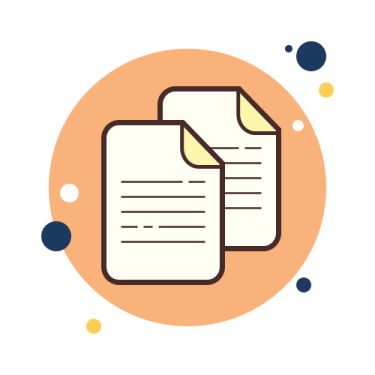 Policy Management
Effortlessly establish, personalize, and execute hybrid work policies.
Happy customers,

happy workplaces
See how Tactic has transformed the way our customers manage their office environments

"Companies can gain insights into how their workspaces are being used, which can inform decisions about office layouts, real estate, and other resources."
Tan Win S.
Business Intelligence Analyst

"Tactic is absolutely fantastic. It eliminates any confusion or conflicts regarding seating arrangements and promotes a more organized work environment. "

Beaver F.
Customer Concierge

"Tactic is very user-friendly and has been really easy for everyone at our company to adopt. We also love the customer service and support we have received from the Tactic team!"
Lauren M.
Office Administrator
Learn more about office insights
Answers to common questions about office data and how Tactic can help you implement it in your organization.
What are office insights?
Office insights refer to valuable data and information gathered from analyzing various aspects of office operations, such as workspace utilization, meeting room usage, desk reservations, and employee activity. These insights provide a deeper understanding of how the office space is used and help optimize workplace efficiency.
What is the best way to utilize office space?
By analyzing workspace utilization, meeting room bookings, and employee activity, organizations can identify trends, peak usage times, and areas of improvement. This information enables effective space planning, optimizing the layout and design of the office, and allocating resources efficiently. Additionally, flexible workspace solutions like hot desking and meeting room booking systems further enhance space utilization and ensure that employees have the right environment for their work needs.
How do office insights benefit a hybrid workplace?
Office insights play a crucial role in a hybrid workplace by providing visibility into the utilization of physical spaces, meeting rooms, and desks. By analyzing this data, organizations can optimize space allocation, identify underutilized areas, and ensure that employees have access to the resources they need, whether they are working remotely or in the office.
Why should I choose Tactic for space management?
Tactic provides a comprehensive suite of tools, including desk booking, meeting room reservations, and visitor management, all in one integrated platform. With Tactic, you can gain valuable insights into office utilization, make data-driven decisions for space optimization, and enhance productivity. The user-friendly interface, seamless integrations with popular calendar apps, and customizable features make Tactic a powerful and intuitive solution for managing office space.
Ready to revolutionize your hybrid workplace with Tactic?
Embrace the future of work with Tactic and unlock the full potential of your organization.