Tactic is now available in the Microsoft Store. Learn how you can streamline office management and support employee adoption with this powerful partnership.​
We are thrilled to announce the launch of the Tactic app on the Microsoft App store. With its availability on Microsoft Outlook, Microsoft Teams, and as an app on Office.com, employees can now easily reserve desks, meeting rooms, and parking spaces at their office. This is a game-changer for companies that are looking to optimize their office space and centralize their operations.
The Tactic app is incredibly user-friendly and convenient. To make a reservation, all an employee needs to do is open the app and choose the location they want to reserve. With an interactive map of the office, they can easily see what's available in real-time. This feature allows employees to quickly identify and book the meeting room or desk that they need.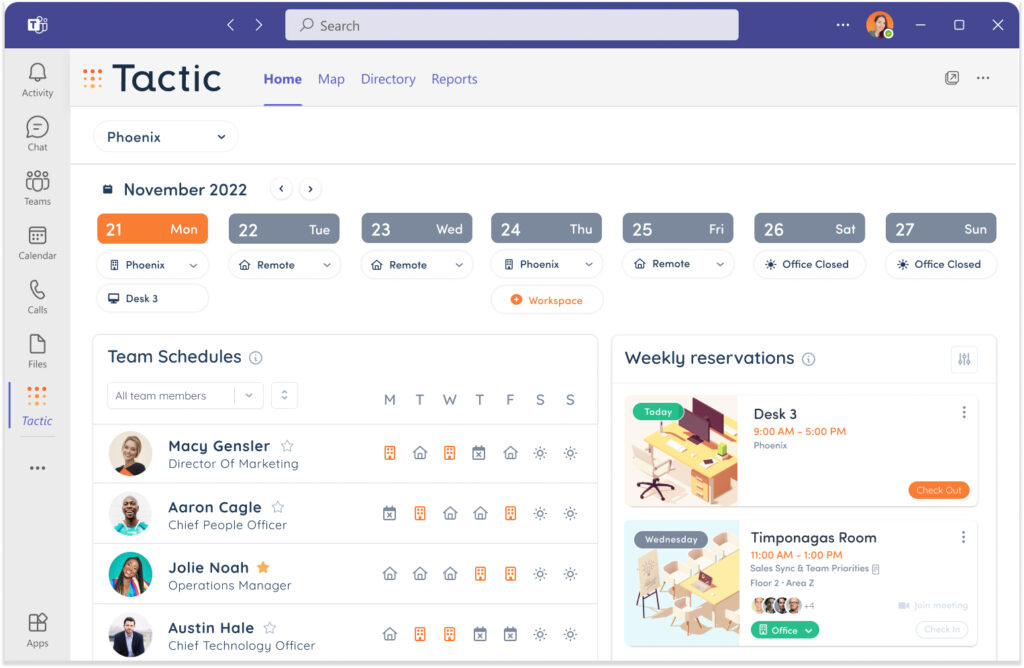 The integration of Tactic with Microsoft Teams provides employees with an additional avenue to access the app and reserve office space. Since Teams is already a popular communication tool for many businesses, the ability to use Tactic within Teams removes any barriers to adoption and makes it easy for employees to access Tactic while they work.
Instead of having to switch between different applications or systems, they can simply use Tactic within Teams, streamlining the process of booking office space and making it much more convenient. This integration with Teams also helps to ensure that the app is more visible to employees, increasing the likelihood that they will use it.
We are excited about the launch of the Tactic app on the Microsoft App store and hope that it will make a positive difference in the lives of employees everywhere. We encourage everyone to download the app today and experience the convenience and efficiency of Tactic for themselves!