Discover the magic of
meeting room reservations
Seamlessly book meetings & avoid scheduling conflicts with our calendar-integrated reservation system

Robelyn M.
Junior Team Leader
"The problems that Tactic is solving are space management and meeting room usage. We can easily find where someone is sitting and what time they will be using a meeting room."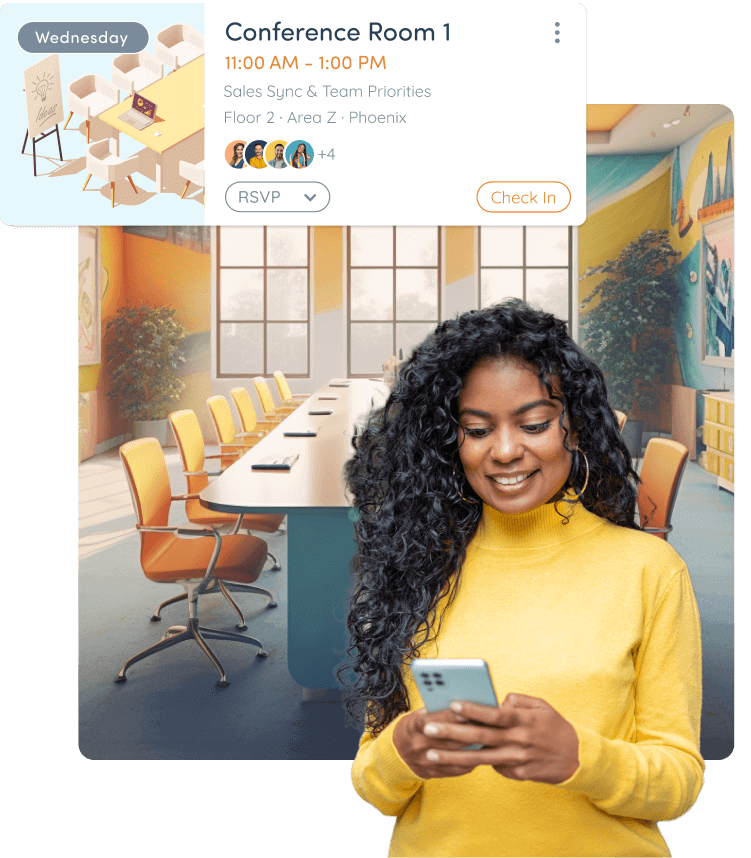 Control

the meeting room chaos
Take charge of your meeting spaces, streamline reservations, and make collaboration easier for your team.
1. Schedule meetings
With Tactic's Meeting Room Reservation tool, scheduling a meeting is a breeze. Choose the desired date and time, invite team members, and effortlessly sync the meeting details with popular calendar tools like Outlook and Google.
2. View Available Rooms
Finding the perfect meeting room has never been easier. Tactic's interactive office map allows users to quickly locate and reserve an available room that suits the specific needs of each scheduled meeting. Whether you need a small huddle room or a large conference space, you can easily find the ideal room for productive discussions.
3. Eliminate Uncertainty
By reserving a room in advance, the meeting organizer can rest assured that everything is in place, eliminating any worries about availability or logistics. This not only brings peace of mind to the organizer but also ensures a smooth and organized experience for all attendees.
4. Increase Efficiency
Time is precious, and wasted minutes searching for available meeting rooms can add up. By using Tactic's meeting room reservation tool, you can maximize productivity and streamline communication within your organization.
Hassle-free

booking for every team meeting
Say goodbye to the last minute scramble for a room and embrace a seamless experience that will put your team at ease.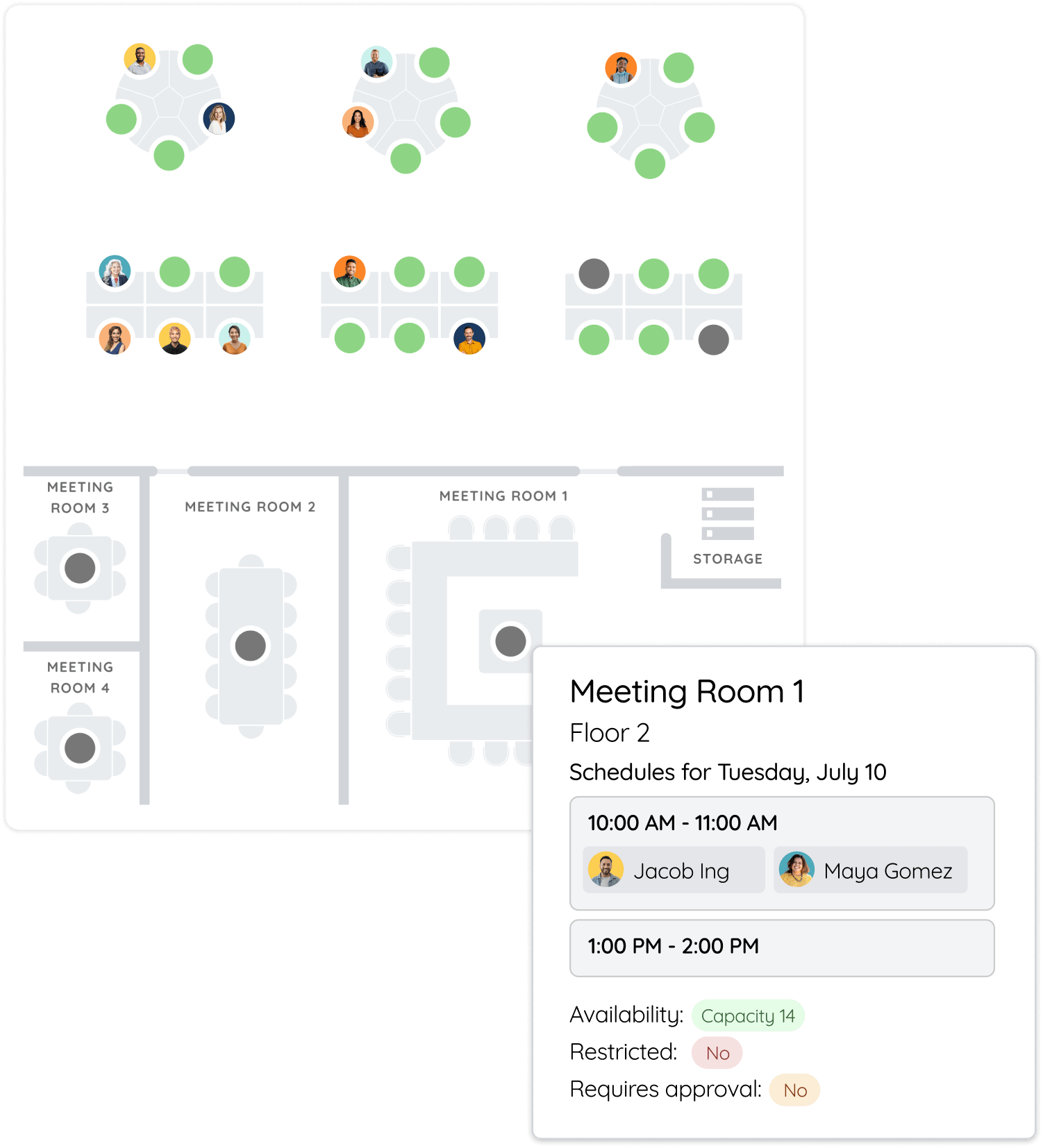 Small touches make a
big

difference
From intuitive design to powerful integrations, we've thoughtfully designed our meeting room reservation tool to enhance your team's workplace experience.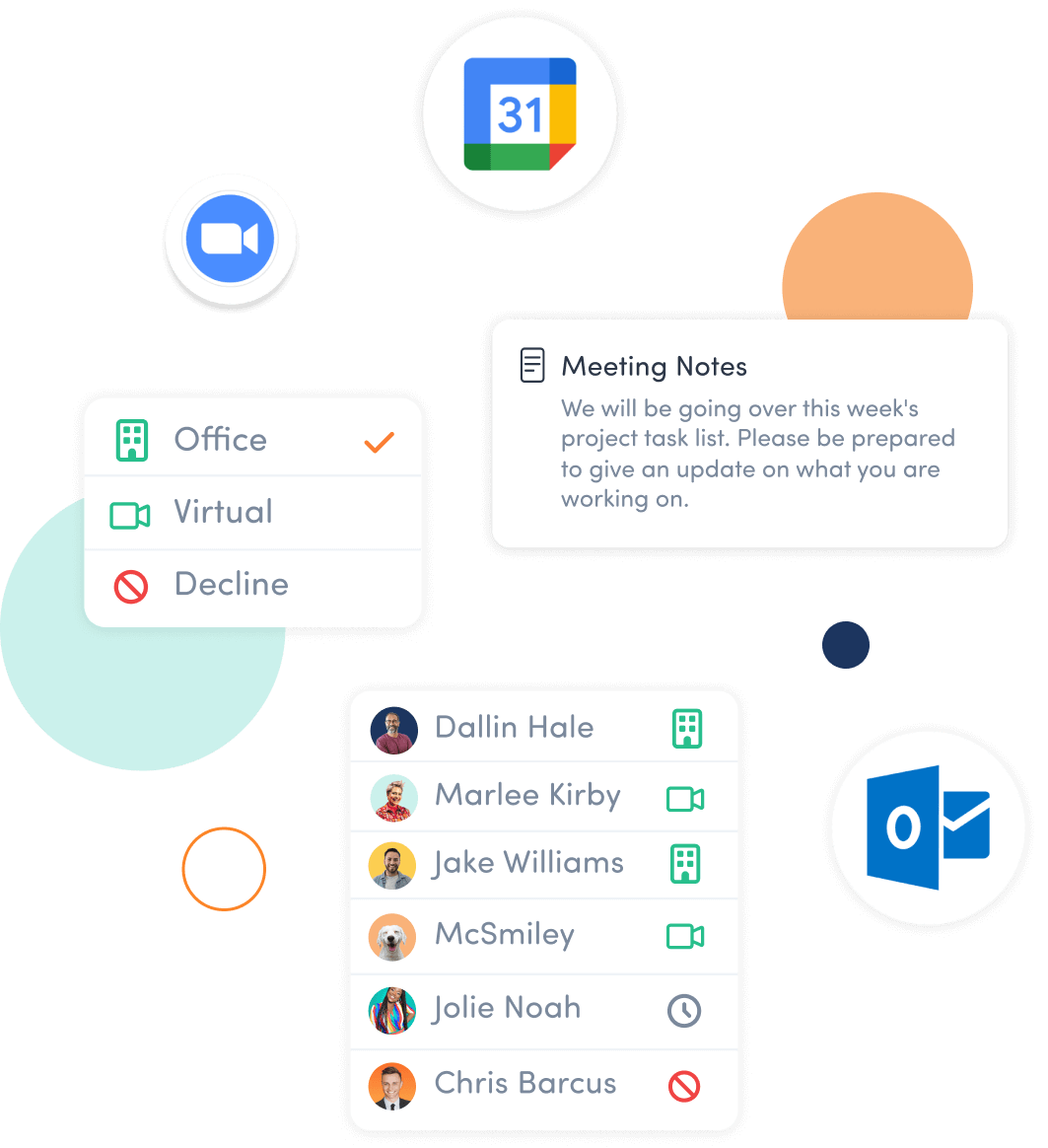 Explore the entire suite of tools to
transform your hybrid workplace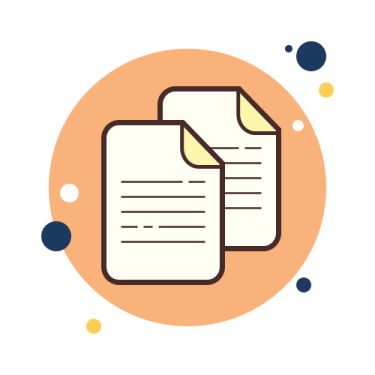 Policy Management
Effortlessly establish, personalize, and execute hybrid work policies.
Hear what customers are saying
workplace solutions
Learn how Tactic is empowering hybrid organizations to boost their workspace efficiency

"Using this room and desk reservation system in the office helps us to check availability. This way, we can arrange or reserve a better time and avoid conflict."
Elaine A.
Customer Concierge

"I am having a great time using Tactic.The design throughout was clean and very easy to navigate. It is very organized, and you can easily track who uses a specific space inside an office."
Ray G.
Quality Assurance Specialist

"Using Tactic, we can avoid having a dispute between two different parties using the same room. Also, we can quickly locate people and their station just by looking at the map."
Ace N.
Data Entry Associate
Learn more about meeting room reservation systems
Answers to common questions about a room reservation tool and how Tactic can help you implement it in your organization.
What is a meeting room booking system?
A meeting room booking system is like your personal assistant for managing and scheduling meeting rooms. It takes the hassle out of reserving and accessing these spaces by providing a convenient digital platform. With just a few clicks, employees can check availability, book rooms, and effortlessly manage their meetings. It's the ultimate solution for streamlining your meeting room operations and ensuring a seamless experience for everyone involved.
How do I implement a room booking system?
Setting up a meeting room booking system is a breeze with Tactic. Our user-friendly interface and straightforward setup process make it easy for organizations to get started. Simply create an account, add your meeting rooms and their details, configure booking rules and preferences, and you're ready to go. Our intuitive system ensures a smooth implementation, allowing you to streamline your room reservation process in no time.
How does a room booking system benefit a workplace?
A meeting room booking system offers numerous benefits to a workplace. It eliminates chaos and frustration by streamlining room reservations, providing real-time visibility into availability, maximizing room utilization, and preventing conflicts. This boosts productivity, enhances collaboration, optimizes resource allocation, and fosters an organized, productive, and collaborative work environment.
Why should I choose Tactic's room booking tool?
Tactic's meeting room booking system stands out from the crowd for many reasons. Our solution is designed with simplicity and efficiency in mind, offering a user-friendly interface and powerful features. With Tactic, you can easily manage your meeting rooms, customize booking rules, and gain valuable insights into room utilization. Our system integrates seamlessly with popular calendar tools, making it a breeze to schedule and sync meetings.
Ready to revolutionize your hybrid workplace with Tactic?
Embrace the future of work with Tactic and unlock the full potential of your organization.